This site is no longer being updated. The Vega Science Trust closed in March 2012, and this site has been left here for reference purposes.
You are here >
Life in Space - Science Video
Helen Sharman, the UK`s first astronaut, gives a vibrant account of her personal experience of life in space using models and film to illustrate the key scientific concepts involved in spaceflight.
Among other things she discusses the way Newton`s Third Law and convection apply to space flight, weightlessness and survival. She answers numerous questions from an audience of young school children (9-12 yrs).
"...Helen is a dynamic presenter who clearly enjoys her work and communicates very effectively with children. It is unique in that Helen can speak from the experience of her flight in Mir. ... What she has to say is immensely interesting and really holds the students attention. "
David Daniels, Science Teacher
Links To Other Information:
Helen Sharman info
Teacher`s Review
by David Daniels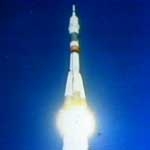 Useful Links:
Please Read
add us to your website