This site is no longer being updated. The Vega Science Trust closed in March 2012, and this site has been left here for reference purposes.
You are here >
How X-rays cracked the structure of DNA
Amand Lucas. An elegantly simple optical diffraction demonstration with an inexpensive laser pointer is used to show the way in which x-rays can reveal the structure of crystals, and in particular, the double helix structure of DNA.
Links To Other Information:
Grating Image
Image of the slide used by Amand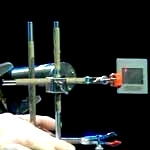 Useful Links:
Please Read
add us to your website