This site is no longer being updated. The Vega Science Trust closed in March 2012, and this site has been left here for reference purposes.
You are here >
Electricity, Magnetism and the Body
Anthony Barker. The controlled ways that electricity and magnetism can stimulate the body are demonstrated and how the resulting responses can aid diagnosis discussed.
Don`t try these shocking experiments at home!
Links To Other Information: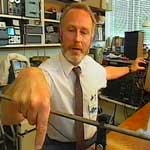 Useful Links:
Please Read
add us to your website