This site is no longer being updated. The Vega Science Trust closed in March 2012, and this site has been left here for reference purposes.
You are here >
In the Oceans
Video of Jacqui McGlade. Satellite, ship survey and computer modelling studies of the workings of the marine environment are used explore present fish supplies worldwide. The desperate need for global "farming" strategies necessary to ensure that the Oceans can continue to provide food are discussed.
Jacqui also co-hosts "The Next Big Thing" with Colin Blakemore and Mike Maier, one of Vega`s highly acclaimed, round-table science discussion series.
Links To Other Information:
The Next Big Thing
Jacqui co-hosts this Vega series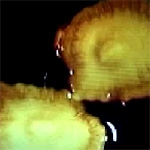 Useful Links:
Please Read
add us to your website