This site is no longer being updated. The Vega Science Trust closed in March 2012, and this site has been left here for reference purposes.
You are here >
Architects of the Microcosmos
In this video Harry Kroto explains that molecules have structures that are every bit as real in the mind of the chemists who create them, as are the edifices of brick, steel and concrete designed by architects and built by engineers.
Links To Other Information: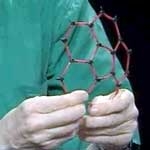 Useful Links:
Please Read
add us to your website