This site is no longer being updated. The Vega Science Trust closed in March 2012, and this site has been left here for reference purposes.
You are here >
Torsten Wiesel - Science Video Interview
Video interview recorded in 2003. The Nobel Prize in Physiology and Medicine 1981 together with Roger W. Sperry "for his discoveries concerning the functional specialization of the cerebral hemispheres" and also David H. Hubel "for their discoveries concerning information processing in the visual system"
Links To Other Information: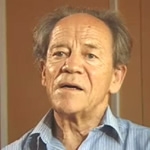 Useful Links:
Please Read
add us to your website