This site is no longer being updated. The Vega Science Trust closed in March 2012, and this site has been left here for reference purposes.
You are here >
Bert Sakmann - Science Video Interview
Video interview recorded in 2003. Nobel Prize 1991 in Physiology / Medicine 1991 together with Erwin Neher "for their discoveries concerning the function of single ion channels in cells"
Links To Other Information: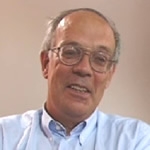 Useful Links:
Please Read
add us to your website