This site is no longer being updated. The Vega Science Trust closed in March 2012, and this site has been left here for reference purposes.
You are here >
Rudolph A. Marcus - Science Video Interview
Video recorded in 2003. Nobel Prize in Chemistry 1992 "for his contributions to the theory of electron transfer reactions in chemical systems"
In this interview Marcus talks about the work for which he received the Nobel Prize. We see him both in an informal setting and giving a lecture at the Lindau meeting where this interview was recorded.
We ask Marcus to explain how he works and he replies that he draws pictures in order to visualize problems. On religion he says that he realises that it would be very comforting to have a religious belief but he personally does not have one.
He says that he does not feel that he needs to understand everything in science. He thinks that as time goes on we are understanding more but he can live without understanding everything.
Links To Other Information: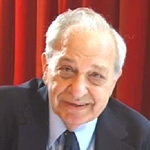 Useful Links:
Please Read
add us to your website