This site is no longer being updated. The Vega Science Trust closed in March 2012, and this site has been left here for reference purposes.
You are here >
Wave Power
The UK coast is constantly being bombarded by sea waves. There is a massive amount of power available from these waves. Here Jonathan describes three different ways of generating electrical power from water waves.

This video was sponsored by SEPnet.
Links To Other Information:
Link to further information
Link to further information on Jonathan`s Creative Science Centre website
Link to SEPnet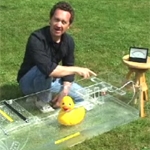 Useful Links:
Please Read
add us to your website