This site is no longer being updated. The Vega Science Trust closed in March 2012, and this site has been left here for reference purposes.
You are here >
Simple Generator
With some simple circuitry and a homemade hand powered generator Jonathan makes AC and DC electricity that could be used for charging a mobile phone or attaching to a wind turbine.

This video was sponsored by SEPnet.
Links To Other Information:
Link to further information
Link to further information on Jonathan`s Creative Science Centre website
Link to SEPnet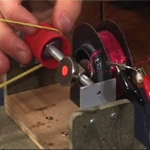 Useful Links:
Please Read
add us to your website