This site is no longer being updated. The Vega Science Trust closed in March 2012, and this site has been left here for reference purposes.
You are here >
Mobile Phone
Jonathan shows us with a cheap and simple homemade demonstration how your mobile telephone generates radio waves in order for you to use it to communicate. As you will see you can use this method to explore many aspects of your mobile phone!

This video was sponsored by SEPnet.
Links To Other Information:
Link to further information
Link to further information on Jonathan`s Creative Science Centre website
Link to SEPnet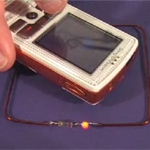 Useful Links:
Please Read
add us to your website