This site is no longer being updated. The Vega Science Trust closed in March 2012, and this site has been left here for reference purposes.
You are here >
Paper Windmills
Here Jonathan makes some simple paper windmills/turbines and experiments with a simple generator to power house hold devices such as torches, calculators and even a radio.

This video was sponsored by SePnet.
Links To Other Information:
Link to further information
Link to further information on Jonathan`s Creative Science Centre website
Link to SEPnet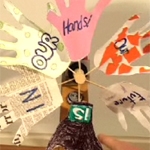 Useful Links:
Please Read
add us to your website