This site is no longer being updated. The Vega Science Trust closed in March 2012, and this site has been left here for reference purposes.
You are here >
Christiane Nüsslein-Volhard
Video interview recorded in 2003. The Nobel Prize in Physiology or Medicine 1995 together with Edward B. Lewis and Eric F. Wieschaus "for their discoveries concerning the genetic control of early embryonic development"
Links To Other Information: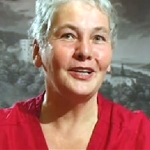 Useful Links:
Please Read
add us to your website