This site is no longer being updated. The Vega Science Trust closed in March 2012, and this site has been left here for reference purposes.
You are here >
Faye Banks
In the this science career video profile we see that despite having a hard childhood (leaving home at 10 years old, being taken into care at 15 and failing her GCSE`s first time round at school) Faye Banks went back to school, studied production engineering and has since won the young woman engineer of the year award.
Faye was head hunted and is the only woman engineer at the Lever Plant in Leeds. She was chosen as one of Britain`s brightest woman engineers, modern thinking, with drive and enthusiasm! She is also the youngest woman engineer at the plant at 24. Her job is to keep production going 24 hours a day and it is a big responsibility as she has to source and find a way to fix any problem.

Faye breaks all the normal stereotypes for being an engineer - she is a woman, only in her 20s and did not follow the traditional career path into engineering. She gets a lot of respect from her male colleagues.

Brought up in Hemsworth, a colliery town in West Yorkshire she had little prospects. She had a difficult childhood leaving home at 10 and things did not improve until she moved in with a best friend`s family at 15 and was given a second chance. She retook her GCSEs passing 8 in a year and then went on to train in engineering. Now she is being supported by the Lever Plant to do an Open University degree course.

Not forgetting her past Faye has become an ambassador for the NSPCC, visiting NCPCC drop in centres to work with young girls as a role model. She feels that she is probably one of the 1% that that made it from her background, and says that if you want to achieve something you can. Faye says that she wants to make the most of every opportunity!
Links To Other Information:
Future Morph - the Science Council`s website designed to provide information for young people, their parents and teachers about careers from studying science and maths.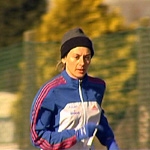 Useful Links:
Please Read
add us to your website