This site is no longer being updated. The Vega Science Trust closed in March 2012, and this site has been left here for reference purposes.
You are here >
Martinus Veltman
In this lecture Martinus Veltman has chosen to speak about the development of Partical Physics starting with the discovery of X-rays (Röntgen rays) by Röntgen.
Video lecture recorded in 2004. Martinus J.F. Veltman, the Netherlands shared the Nobel Prize in Physics in 1999 with Gerardus `t Hooft the Netherlands "for elucidating the quantum structure of electroweak interactions in physics"
Links To Other Information:
Nobel Website
Autobiography
Lindau Meeting of Nobel Laureates
Lindau Meeting website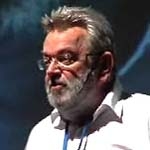 Useful Links:
Please Read
add us to your website