This site is no longer being updated. The Vega Science Trust closed in March 2012, and this site has been left here for reference purposes.
You are here >
F. Sherwood Roland
Sherwood Roland was asked the question `how did you get to where you are?` In this lecture he chooses to discuss his research path from non-atmospheric to atmospheric chemistry.
Video recorded in 2006. Sherwood Rowland was awarded the Nobel Prize in Chemistry for work in the atmospheric chemistry, particularly concerning the formation and decomposition of Ozone in 1995.
Links To Other Information:
Nobel Website
Autobiography
Lindau Meeting of Nobel Laureates
Lindau Meeting website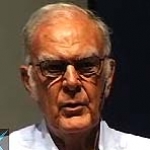 Useful Links:
Please Read
add us to your website