This site is no longer being updated. The Vega Science Trust closed in March 2012, and this site has been left here for reference purposes.
You are here >
New High Vacuum Chamber
In this short video Alex shows us how the Namur Group were able to improve the evaporation of metals with an new very high vacuum chamber which is helping the metals adhere to the carbon nanotubes. The idea is that once the metals adhere to the nanotubes the metals will react with different gases.
Links To Other Information: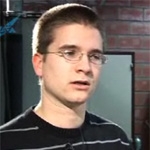 Useful Links:
Please Read
add us to your website