This site is no longer being updated. The Vega Science Trust closed in March 2012, and this site has been left here for reference purposes.
You are here >
Giant Fullerenes
C60, the football caged molecule is the head of a family of carbon based structures called the Fullerenes. In this mini film (short science video) we will look at the larger structures, the giant fullerenes and among other things we will explore the 60n² rule used to estimate the number of atoms within the cages.
To download the summary page (small jpg image) shown at the end of this video please click here.
Links To Other Information: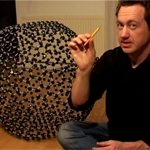 Useful Links:
Please Read
add us to your website