This site is no longer being updated. The Vega Science Trust closed in March 2012, and this site has been left here for reference purposes.
You are here >
Joseph Rotblat Interview 1 - Tape 3
Video recorded in 2002, three years before his death scientist and Nobel Peace Laureate Sir Joseph Rotblat discusses his life and his work in an interview with Sir Harry Kroto and Edward Goldwyn. This rare footage is part of a series of unedited tapes making one complete interview which was completed in 2005 in interview 2.
Tape 3:

Questioning working on the development of the bomb.
Lectureship in Nuclear Physics at Liverpool.
Leaving wife in Poland and loss of his wife.
Back to religious eduction.
Story of his sister swapping ages.
Links To Other Information: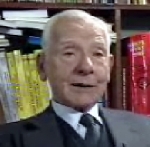 Useful Links:
Please Read
add us to your website