This site is no longer being updated. The Vega Science Trust closed in March 2012, and this site has been left here for reference purposes.
You are here >
Piezoelectricity
Video recorded in 2008.
Some minerals such as quartz can produce electricity simply by squeezing or bending them - these are called piezoelectric crystals. Here is a simple and cheap demonstration you can do.
Links To Other Information: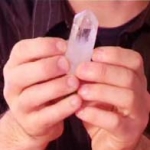 Useful Links:
Please Read
add us to your website