This site is no longer being updated. The Vega Science Trust closed in March 2012, and this site has been left here for reference purposes.
You are here >
Toyo, Japan 2002 (Japan - English/Japanese)
Video of Harry Kroto exploring chemistry, astronomy, algebra and architecture, with children at Toyo University,

Japan.
For the Japanese version see link below.
Links To Other Information:
Toyo University Workshop
Toyo University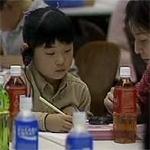 Useful Links:
Please Read
add us to your website