This site is no longer being updated. The Vega Science Trust closed in March 2012, and this site has been left here for reference purposes.
You are here >
Manchester United (UK - English)
Harry Kroto has given workshops around the world to a range of age groups. Hear about everything from galaxy formation and fullerenes, to juggling, politics and tortoises.
You can also download the powerpoint presentation packs and worksheets below that Harry has prepared for these workshops, if you want to use them yourself.
Links To Other Information:
Presentation packs and downloads
Powerpoint and presentation packs to go with these workshops
RSC
The Royal Society of Chemistry
Manchester United
Soccer Club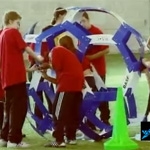 Useful Links:
Please Read
add us to your website