This site is no longer being updated. The Vega Science Trust closed in March 2012, and this site has been left here for reference purposes.
You are here >
Seawater Battery
Recorded in 2007.
This video should be used with the article linked to below.
When two different metals are placed in a salt solution (an electrolyte) the chemistry produces a voltage. This is called a cell. By wiring up a number of these cells we can make a battery and use it to power electrical circuits.
Links To Other Information:
Seawater Battery
Article on seawater battery to accompany this film.
Creative Science Centre
Visit the virtual science centre packed full of things to make and do!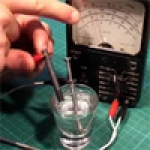 Useful Links:
Please Read
add us to your website