This site is no longer being updated. The Vega Science Trust closed in March 2012, and this site has been left here for reference purposes.
You are here >
Bucky Balls - Carbon 60
Science video recorded in 2007.

The Buckyball, or C60 molecule was discovered by accident (in the lab) while trying to understand the chemistry between the stars in the Interstellar Medium ISM. The discovery led to the Nobel Prize in chemistry in 1996. Here we look at the structure of C60 and make a molecular model.

Please see the article linked to below which accompanies this workshop.
Links To Other Information:
Information on C60
Link to information on C60
The Creative Science Centre
Visit the virtual science centre packed full of things to make and do!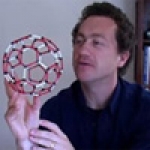 Useful Links:
Please Read
add us to your website