This site is no longer being updated. The Vega Science Trust closed in March 2012, and this site has been left here for reference purposes.
You are here >
Machines with Minds
A science video discussion. Real moving, interacting robots is one promising direction in artificial intelligence. But what about the original hope of matching human performance, and what has A.I. told us about the human brain?

Video by the BBC/OU/Vega.
When science of artificial intelligence was launched in the 50s, its goal was to match the intellectual achievements of human beings. Why isn`t machine intelligence already far superior to that of people?
Chaired by Colin Blakemore, the panel consists of Professor Aaron Sloman (University of Birmingham), Dr Amanda Sharkey (University of Sheffield), and Professor Igor Aleksander (Imperial College).
Links To Other Information: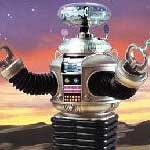 Useful Links:
Please Read
add us to your website