This site is no longer being updated. The Vega Science Trust closed in March 2012, and this site has been left here for reference purposes.
You are here >
Max Perutz Interview 2
A science video interview with Molecular biologist Max Perutz recorded on 13 October 2000 with kind support from the Kohn Foundation. Nobel Laurate Sir Harry Kroto interviews Nobel Laurate Sir Max Perutz.
Links To Other Information:
Interview 1 with Max Perutz
1962 Nobel Prize
Biography and Details of Max`s Nobel Prize
The LMB
Max`s lab (home and research)
`Max Perutz and the Secret of Life`
Recently published book on Max Perutz by Georgina Ferry - link to Georgina`s website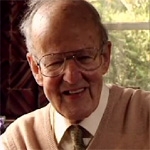 Useful Links:
Please Read
add us to your website