This site is no longer being updated. The Vega Science Trust closed in March 2012, and this site has been left here for reference purposes.
You are here >
The Barcelona Group
Sensotran are the industrial partner in the nano2hybrids project. A small family firm based just outside Barcelona in Spain, they are experts in commercial production of gas sensors for a range of industries, notably for detecting dangerous gases produced in the petrochemical industry, and detectable in low concentrations at petrol stations. It is the goal of the project to produce a new nanotube-based sensor that will allow ultra-sensitive and rapid detection of gases in these environments - and preferably a cheap sensor too!
Links To Other Information:
Nano2hybrids Site
View video diaries and other project information.
Sensotran at Nano2hybrids
View Sensotran`s page on the nano2hybrids site
Sensotran
Sensotran`s Homepage
The Next Big Thing Nanotechnology
Link to Vega Science/BBC OU Discussion on Nanotechnology.
Nanotubes: Materials of the 21st Century
Link to a Royal Institution Lecture by Sumio Iijima.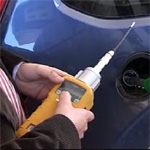 Useful Links:
Please Read
add us to your website