This site is no longer being updated. The Vega Science Trust closed in March 2012, and this site has been left here for reference purposes.
You are here >
Nano2Hybrids Introduction
A short Introduction to the Nano2Hybrid European Research Project. A video profiling a nanotechnology research project supported by a European Materials Research grant aims to produce a tiny gas sensor using nanotubes that have been developed to be sensitive to different gases.
Links To Other Information:
Nano2hybrids Site
View video diaries and other project information
The Next Big Thing Nanotechnology
Link to Vega Science/BBC OU Discussion on Nanotechnology
Nanotubes: Materials of the 21st Century
Link to a Royal Institution Lecture by Sumio Iijima.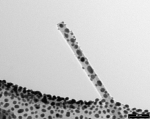 Useful Links:
Please Read
add us to your website