This site is no longer being updated. The Vega Science Trust closed in March 2012, and this site has been left here for reference purposes.
You are here >
Joseph Rotblat - Science Video Interview
Joseph Rotblat was interviewed by Harry Kroto in 2002 and 2005.

Born in Warsaw in 1908, Joseph Rotblat has had an incredible career spanning nuclear, radiation and medical physics, and international affairs. He worked on the Manhattan Atomic Bomb project during the second world war and then uniquely, quit the project a few months before the war ended when it became clear that Germany would not be able to develop nuclear weapons of its own for use against the allies.
He later worked on medical radiation physics and co-founded the Pugwash organisation, a series of conferences focusing on science and world affairs. In 1995 Pugwash and Rotblat were jointly awarded the Nobel peace prize for their efforts to diminish the part played by nuclear arms in international politics and, in the longer run, to eliminate such arms.

He is still extremely active in politics and world affairs, as well as the work of Pugwash. These clips form part of an extended archive of interviews developed by Vega.

This recording was made possible through funding from the Eugene Garfield Foundation. Vega is extremely grateful to the foundation for their help and support.
Links To Other Information:
Tribute to Sir Joseph Rotblat
Links to articles paying tribute to Sir Joseph Rotblat and related links
Pugwash
Conferences on Science and World Affairs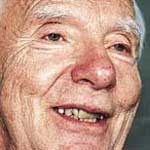 Useful Links:
Please Read
add us to your website